Civilian Human Resources Department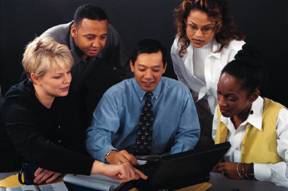 Mission
Enable mission success by providing Civilian Human Resources (CHR) support to TRADOC organizations. Deliver expert CHR consultation, leadership, and guidance throughout the career lifecycle of Army Civilian employees. Design, develop, and influence Command and Army-wide initiatives to recruit and sustain the civilian workforce.
Vision
A team of innovative, adaptive, and diverse Civilian Human Resources professionals who provide exceptional service and support to meet the ever changing challenges for TRADOC, the Army and the Department of Defense.
More Information
I am an Army Civilian – a member of the Army Team.
I am dedicated to our Army, our Soldiers and Civilians.
I will always support the mission.
I provide leadership, stability, and continuity during war and peace.
I support and defend the Constitution of the United States and consider it an
honor to serve our Nation and our Army.
I live the Army values of Loyalty, Duty, Respect, Selfless Service, Honor,
Integrity, and Personal Courage.
I am an Army Civilian.
Civilian Leader Development
Equal employment opportunities are provided to all employees and applicants for employment and prohibits discrimination and harassment of any type without regard to race, color, religion, age, sex, national origin, disability status, and genetics. This policy applies to all terms and conditions of employment, including recruiting, hiring, placement, promotion, termination, layoff, recall, transfer, leaves of absence, compensation, and training.
Army Civilian Career Management Activity (ACCMA) FY22 Civilian Talent Development Program (ACTDP) Catalog
FY23 TRADOC Suspense Dates (To Be Determined)
Army Congressional Fellowship Program (ACFP) – S: TBD
Defense Civilian Emerging Leaders Program (DCELP) – S: TBD
Harvard University Program for Senior Executive Fellows (SEF) – S: TBD
Leadership for a Democratic Society (LDS) at the Federal Executive Institute (FEI) – S: TBD
Senior Enterprise Talent Management Program (SETM) & Enterprise Talent Management Program (ETM) – S: TBD
Senior Leader Seminar: Senior Leader Development Course (SLS) – S: TBD
Senior Manager Course (SMC) in National Security Leadership – S: TBD
TRADOC Enterprise Leader Development Program (ELDP) – S: TBD
Foundation Course (FC) – Required course for all Army Civilians hired after 30 September 2006. Employees with a break in service, and previous service date is before 30 September 2006, are required to take FC. Interns are required to complete the FC before completion of the intern program. The FC is available to other members of the Army Civilian Corps for self-development.
Basic Course (BC) – Designed for the Army Civilian leader who exercises direct leadership to effectively lead and care for teams. For Army Civilians in grades GS-01 through GS-09 or equivalent.
Intermediate Course (IC) – Designed to prepare participants for increasing responsibilities to exercise direct and indirect supervision. Students enhance their leadership abilities and develop skills to manage human and financial resources, displaying flexibility and resilience with a focus on the mission. For Army Civilians in grades GS-10 through GS-12 or equivalent pay band.
Advance Course (AC) – Focus is on Army Civilians skilled in leading a complex organization in support of national security and defense strategies; integrating Army and Joint systems in support of the Joint Force; inspiring vision and creativity; implementing change; and managing programs. For Army Civilians in grades GS-13 through GS-15 or equivalent.
Continuing Education for Senior Leaders (CESL) – Provides the continuing education sustainment program that brings senior level Civilian leaders together to discuss current and relevant issues facing the Army. For Army Civilians in grades GS-14 and GS-15 or equivalent.
Supervisor Development Course (SDC) – Applicants have 120 days from the date of enrollment to complete. Must be completed within the first year of placement in a supervisory position in accordance with the one-year supervisory probationary period. SDC provides supervisors with knowledge necessary to successfully manage work processes and lead in the Army Environment.
Supervisor Development Course – Refresher (SDC-R) – Meets the three-year recertification for supervisors who previously completed SDC.
Navigation Location: Communities/Communities/Civilian (Category)/Career Program Training Plan (Selection Page)
Operations and Special Initiatives Team