U.S. ARMY TRAINING AND DOCTRINE COMMAND (TRADOC)  
INTERN PROGRAM 
How far could a student internship at the U.S. Army Training and Doctrine Command (TRADOC) take you? For starters, it would give you a coveted inside look into a four-star Army Command that recruits and trains Soldiers, develops adaptive leaders (both Soldier and Civilian), and guides and shapes the Army. We offer a range of careers and responsibilities found in the Civil Service. You'll gain valuable work experience that you can apply to virtually every endeavor — whether you work in government or the private sector.
Most of all, you will feel good about doing
something worthwhile for your nation.
TRADOC STUDENT VOLUNTEER INTERNSHIP PROGRAM
The U.S. Army Training and Doctrine Command (TRADOC) Student Volunteer Internship Program supports Army efforts to increase the diversity of Civilian talent needed to achieve Total Army readiness by providing developmental opportunities at TRADOC for emerging leaders. A sustainable talent management-based program will create a robust pipeline of new, diverse civilian talent needed at TRADOC.
Get to know TRADOC
and boost your education
with some real-life work experience
as an intern.
The TRADOC Student Volunteer Internship Program is an unpaid internship with the opportunity to work in various elements across the Command. This program is designed to provide students with substantive learning experiences in a cooperative learning environment. TRADOC hosts students throughout the school year based on the needs of our organizations. The duration of our project assignments vary. TRADOC supports students earning course credit while interning, but specific guidelines and requirements will vary by school. The program provides for a supervised, structured educational experience that integrates classroom learning with productive work experience in a field related to the student's academic majors or career goals.

While the duties of TRADOC Student Volunteer Internship Program participants vary across the organization, it is not uncommon for these students to:
Participate in meetings with Army leaders
Draft, edit, or contribute to reports, communications, talking points, or other materials used by senior leaders in furthering objectives to achieve Total Army Readiness
Support events, including meetings and conferences
Engage directly with audiences to explain the work of TRADOC promoting policy and improving understanding
Apply concepts of strategic skillsets to sustain a variety of high-quality forward views
Apply emerging insights in organizationally useful ways for the Army and TRADOC
Internships with TRADOC have successfully accomplished goals of enabling college students to collaborate (often in a virtual environment) with Army leaders to gain practical, real-world experience and informing Army efforts at maintaining a high quality, diverse, talented, and professional workforce.
PATHWAYS FOR STUDENTS AND RECENT GRADUATES
The Federal Government values the contributions made by students and recent graduates of all ages and backgrounds. President Obama signed Executive Order 13562, entitled "Recruiting and Hiring Students and Recent Graduates," on December 27, 2010.
This Executive order established two new programs and modified another. They are the Internship Program for current students; the Recent Graduates Program for people who have recently graduated from qualifying educational institutions or programs (2 years from the date the graduate completed an academic course of study); and the reinvigorated Presidential Management Fellows (PMF) Program for people who obtained an advanced degree (e.g., graduate or professional degree) within the preceding two years. These programs, collectively the Pathways Programs, are streamlined developmental programs tailored to promote employment opportunities for students and recent graduates in the Federal workforce.
As directed by the Executive order, OPM issued a final Pathways Rule to implement these programs. The final rule aims to improve recruiting efforts, offer clear paths to Federal internships for students from high school through post-graduate school and to careers for recent graduates, and to provide meaningful training and career development opportunities for individuals who are at the beginning of their Federal service.
1. The Internship Program is for current students. It replaces the Student Career Experience Program (SCEP) and Student Temporary Employment Program (STEP). The new Internship Program provides students in high schools, colleges, trade schools and other qualifying educational institutions with paid opportunities to work in agencies and explore Federal careers while completing their education.
2. The Recent Graduates Program provides developmental experiences in the Federal Government. It is intended to promote possible careers in the civil service to individuals who, within the previous two years, graduated from qualifying educational institutions with an associates, bachelors, masters, professional, doctorate, vocational or technical degree or certificate from qualifying educational institutions. To be eligible, applicants must apply within the previous two years of degree or certificate completion except for veterans precluded from doing so due to their military service obligation, who will have up to six years after degree or certificate completion to apply. For more information about Federal employment information for veterans, go to OPM's Feds Hire Vets (external link) website.
3. For more than three decades, the Presidential Management Fellows (PMF) Program has been the Federal Government's premier leadership development program for advanced degree (e.g., masters or professional degree) candidates. Executive Order 13562 expands the eligibility window for applicants, making it more "student friendly" by aligning it with academic calendars and allowing those who have received a qualifying advanced degree within the preceding two years to participate. It also directs OPM to set eligibility requirements and minimum qualification standards, and to make the PMF experience more robust and substantive for participants.
ARMY CAREER DEVELOPMENT PROGRAM (ACDP)
The Army Career Development Program (ACDP) (formally known as the "ACTEDS Intern Program) is a program focused on providing an Army Civilian Corps succession tool targeted on recruiting and developing a pipeline of future Army leaders, rather than the Army entry level accession tool of the past. The target audience has been transformed to recent college graduates of a competitive caliber that demonstrates ambition, leadership potential, and the ability to be geographically mobile. The program goal is to acquire personnel with the skill sets critical to Army readiness, modernization, reform, and mission accomplishment.
WORKFORCE RECRUITMENT PROGRAM
The Workforce Recruitment Program (WRP) is a recruitment and referral program sponsored by the Department of Labor (DOL) and the Department of Defense (DoD). The program connects federal and private sector employers nationwide with highly motivated college students and recent graduates with disabilities. Employment in this program can be permanent or temporary. The temporary jobs provide up to 14 weeks/560 hours of employment which in some cases can be extended. Most of these jobs are during the summer. (Note: DOL includes women and minority colleges in its recruitment efforts).
NON-PAID WORK EXPERIENCE PROGRAM (NPWE)
The Non-Paid Work Experience Program (NPWE) is a Veterans Affairs (VA) program designed specifically to provide eligible Veterans with service connected disabilities an opportunity for training and practical job experience to enhance their chances of obtaining employment. This program provides a unique opportunity for TRADOC to help eligible Veterans improve their chances of finding employment and ultimately their quality of life. Veterans that are eligible to participate in this program are paid a stipend from VA. Veteran participation in this program normally lasts six months, but can be extended in some cases. (Note: This opportunity is one of TRADOC ways of supporting Veterans with service connected disabilities.)
TOP FIVE THINGS TO KNOW ABOUT TRADOC INTERNSHIPS
TRADOC INTERNS CONTRIBUTE TO TRADOC MISSIONS! 
TRADOC INTERNSHIPS CAN BE VIRTUAL OR IN-PERSON 
TRADOC INTERN PROJECTS ARE AVAILABLE YEAR ROUND 
TRADOC INTERNSHIPS OFFER FLEXIBLE SCHEDULES! 
DURATION
Student volunteer work may be performed during the school year and/or during summer periods. The nature of your volunteer assignment, as well as your weekly work schedule, should be part of your work agreement. To ensure this is a meaningful opportunity for you, you will need to commit to 10-20 hours per week. However, you may work more depending on your availability and the needs of the internship. Volunteer work assignments typically have a duration of 3-4 months.
Imagine using the information you're learning in college to work on and help solve today's most complex problems.
At TRADOC, you'll do just that!
SEE WHAT OUR INTERNS HAVE TO SAY
William & Mary student
"This has allowed me to learn and grow as an individual and be able to highlight to others that you don't need to gear up and go off to basic training in order to serve your country."
Virginia Commonwealth University student 
"This has allowed me to learn "TRADOC's Intern Program is beneficial for both students and managers – students gain knowledge and experience in the federal government, while the employers gain a fresh, new perspective and assistance on multiple projects." 
SEE WHAT OUR TRADOC LEADERS HAVE TO SAY 
APPLYING FOR AN INTERNSHIP AT TRADOC
To be eligible for the Student Volunteer Internship Program, students must meet the following criteria:
Be a U.S. citizen.
Be an individual who is enrolled, not less than half-time, in a college, university, or comparable recognized education institution.
Be available on at least a part-time basis, for no less than two months.
Please visit Handshake.com to view the available internships at TRADOC. We suggest that you submit your application and upload the following documents:
Resume
College Transcripts (Unofficial)
Letter of Recommendation from school's Department Head on official letterhead
Writing Sample
PARTNERING WITH TRADOC
Is your school, university, or institution interested in forming an alliance with TRADOC?
We welcome a discussion of the possibilities! Our command has partnered with multiple institutional organizations to bring a valuable and educational experience to students allowing them to work side-by-side with Army leaders to gain practical, real-world experience within TRADOC, while simultaneously contributing valuable academic rigor and diverse perspectives to the organizations in which they work.
If you have any further questions, please contact our internship coordinator for more information.
TIPS TO SUCCEED IN YOUR INTERNSHIP WITH TRADOC
Learn about the Army command
Ask questions
Maintain professionalism
Have a positive attitude
Develop your skills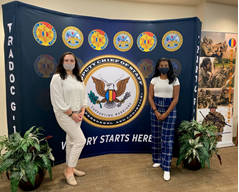 ENTERING AN INTERNSHIP IN A VIRTUAL CAPACITY
We also offer a variety of virtual internships. If you find yourself transitioning into a new role in a strictly remote capacity, keep a few of these tips in mind based on the experience of our interns:
Be flexible and patient. Everyone is figuring out a new way of working.
As your manager about their preferred channel of communications. There are so many options – email, text, IM, phone call, group discussion. If you cut through this noise, you can more quickly and frequently connect with your manager to get the information needed to succeed.
Ask for a mentor or buddy. Literally everyone in the command could be a buddy because they were new at one point. Mentors can help answer your questions.