Civilian Human Resources Department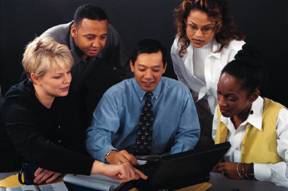 Mission
Enable mission success by providing Civilian Human Resources (CHR) support to TRADOC organizations. Deliver expert CHR consultation, leadership, and guidance throughout the career lifecycle of Army Civilian employees. Design, develop, and influence Command and Army-wide initiatives to recruit and sustain the civilian workforce.
Vision
A team of innovative, adaptive, and diverse Civilian Human Resources professionals who provide exceptional service and support to meet the ever changing challenges for TRADOC, the Army and the Department of Defense.
More Information
I am an Army Civilian – a member of the Army Team.
I am dedicated to our Army, our Soldiers and Civilians.
I will always support the mission.
I provide leadership, stability, and continuity during war and peace.
I support and defend the Constitution of the United States and consider it an
honor to serve our Nation and our Army.
I live the Army values of Loyalty, Duty, Respect, Selfless Service, Honor,
Integrity, and Personal Courage.
I am an Army Civilian.