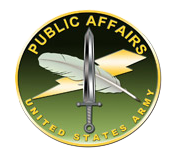 Communication Directorate
Mission
The Communication Directorate is responsible for the establishment and sustainment of the command-wide synchronized communication program that enables the U.S. Army Training and Doctrine Command mission and commanding general's priorities.
Vision
The Communication Directorate prepares information relative to U.S. Army Training and Doctrine Command units' participation in military operations, world events, and environmental matters through news releases, special activities, photographs, television, and other informational methods.
The Communication Director is responsible for developing a working relationship with reporters and other media representatives, maintaining a robust community relations program, keeping contact with other government agencies, and keeping internal and external publics informed on issues that may affect the command and subordinate units. The Communication Directorate also reviews materials such as speeches, news articles, and radio and television interviews for security policy review and integration with the objectives of the military, and determine appropriate topics.
The Communication Directorate responds to media queries, reviews manuscripts, conducts press conferences and produces news releases, public service announcements and media advisories.
Social Media Training
Please click the slide or here for social media training from U.S. Army Training and Doctrine Command.
Please also visit the U.S. Army's social media page for policies and resources.