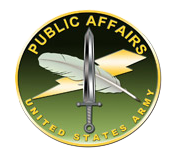 Mission
Public Affairs is responsible for the establishment and sustainment of the command-wide synchronized communication program that enables the U.S. Army Training and Doctrine mission and commanding general's priorities.
Vision
Public Affairs prepares information relative to U.S. Army Training and Doctrine Command units participation in military operations, world events, and environmental matters through news releases, special activities, photographs, television, and other informational methods.
The Public Affairs Officer (PAO) is responsible for developing a working relationship with reporters and other media representatives, maintaining a robust community relations program, keeping contact with other government agencies, and keeping internal and external publics informed on issues that may affect the command and subordinate units. The Public Affairs Office also reviews materials such as speeches, news articles, and radio and television interviews for security policy review and integration with the objectives of the military, and determine appropriate topics.
Public Affairs responds to media queries, reviews manuscripts, conducts press conferences and produces news releases, public service announcements and media advisories.
Social Media Training
Please click the slide or here for social media training from U.S. Army Training and Doctrine Command.
Please also visit the U.S. Army's social media page for policies and resources.
Media relations works with news agencies to inform the public of TRADOC's mission, policies and practices in a timely, consistent and credible manner.
Media Members, please click here for assistance with questions, story ideas or to setup an interview with the Media Relations Team.
Develops and sustains positive relations with the community; orchestrates an effective command-wide community relations program; maintains administrative control of the TRADOC Band.
Have an event? Send us an email.
Check out the TRADOC Band's website.
The Command Information Team's goal is to synchronize internal news and information to promote awareness and understanding of command-wide missions, initiatives, and successes. The team is responsible for:
Managing the content on the TRADOC website Managing TRADOC's official social media sites such as Facebook and Twitter Coordinating coverage of command events and priorities across the command
To contact the CI Team, email them here
Any individual may submit a FOIA/Privacy Act request by mail, fax, or e-mail.
Mailing Address:
TRADOC Office of the G-6
Freedom of Information Office (ATIM)
661 Sheppard Place
Fort Eustis, VA 23604-5733
Phone: (757) 501-6537/6538
Fax: (757) 501-6509
E-mail: usarmy.jble.tradoc.mbx.tradoc-atim1@mail.mil
FOIA/Privacy Act requests must be in writing; telephone requests will not be accepted. If you do not know the exact title of the document you are seeking, provide a reasonable description of the document(s). The more information that you can provide about the document, such as its author or date, the more expeditiously your request will be processed. Include your complete mailing address and willingness to pay fees, such as, "I am willing to pay up to $25.00."
Submit your request to the FOIA/Privacy Office at the Army organization that created the record. If you do not know which Army organization to contact, submit your request to usarmy.belvoir.hqda-oaa-ahs.mbx.rmda-foia@mail.mil. Headquarters, Department of the Army FOIA Office will identify the office where the record(s) originated and refer your request to that office.
Note: For records created prior to 1 July 1973, when TRADOC was established as a major Army command, please conduct an analysis to determine if the record subject is training (TRADOC), operations (FORSCOM) or testing and evaluation (review boards) (ATEC).
Submit an electronic FOIA/Privacy request
Send Freedom of Information Act (FOIA) requests for TRADOC records to usarmy.jble.tradoc.mbx.tradoc-atim1@mail.mil
Send FOIA requests for Army records (other than TRADOC records) to
Visit the Army's Freedom of Information Act Office site for more information.
Postal Mail
Public Affairs Office
950 Jefferson Avenue
Ft. Eustis, VA 23604-5700
E-mail: usarmy.jble.tradoc.mbx.hq-tradoc-pao@mail.mil
Prefixes – Commercial: (757) 501-XXXX; DSN 501-XXXX
Extension Specialty Area
Front Office
5886 PAO Chief
5866 PAO Deputy
5882 Sergeant Major
Media Relations
5878 Media Relations Chief
5873 Media Relations Officer
757-775-8356 After Hours
Community Relations
5872
Command Information
5877
5876
Plans
5869
5871
5875