Integration and Support Directorate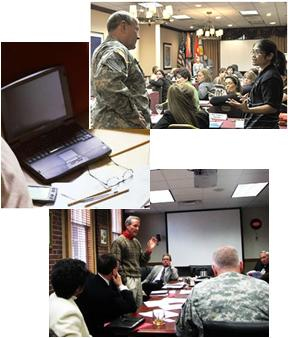 Mission
Understands, communicates and advocates base support requirements for TRADOC centers, schools and activities. Serves as the TRADOC lead for the Army Family Program, provide guidance, evaluation, and technical assistance to TRADOC pertaining to Soldier and Family Services.
Vision
Be recognized as the TRADOC advocate and lead for base operations and support, and Family Programs.
Strategic Goals
Understand, communicate and advocate base support requirements for TRADOC schools and activities.
Serve as advocate for the Soldier, Family and Readiness Family programs.
Influence command decisions affecting TRADOC and Army Transformation.
Integrate cross-functional issues to achieve a TRADOC position in support to training mission.
Provide seamless, proactive systems and support processes to TRADOC Leadership.
Soldiers and Families in need of crisis assistance should contact the Military OneSource or the Defense Center of Excellence (DCOE) for Psychological Health and Traumatic Brain Injury Outreach Center. Trained consultants are available from both organizations 24 hours a day, seven days a week, 365 days a year.
Military OneSource telephone: 1-800-342-9647. Overseas personnel need to refer to the Military OneSource Website for dialing instructions for their specific location.
DCOE telephone: 1-866-966-1020. Or send an email to resources@DCoEOutreach.org.
The appearance of external hyperlinks does not constitute endorsement by the U.S. Army of this Website or the information, products or services contained therein. For other than authorized activities such as military exchanges and MWR sites, the U.S. Army does not exercise any editorial control over the information you may find at these locations.
Such links are provided consistent with the stated purpose of this Website.